I logged into Facebook when I woke up today to find this gem.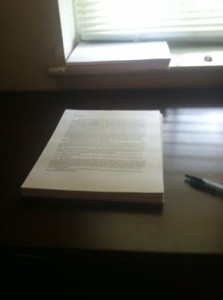 That is the first draft of Darker Shadows Lie Below printed out and ready to be edited. That was two years ago today, which means that it was about two years and six months ago that I decided I was finally going to try my hand at being a professional writer.
At the time, I was already writing. I have been since I was a kid. Back then, I would read two books a day and play video games in-between. I spent half my time writing, and the other half devouring media like a hungry dog.
Fast forward a few decades, and I'd told myself that writing was something people did when they already had a career. Once they were somebody, then they took the time to sit down and try their hand at being an artist. I'd let people my whole life tell me it wasn't realistic to pick that as a career.
Do I disagree two years later? Well, if you're asking if I'm making my living off of my writing, then the answer is no. I don't really make money doing this. But it stands as one of the best decisions I've ever made. I've followed a lifelong dream. I've met amazing people because of it. I've traveled for it. I've made good friends, and I've come to realize that those people who told me to put my dreams on hold only said that because they were too scared to pursue their own.
I've written six books, a dozen or so short stories, a few scripts, a large box of blog posts, and I'm currently working on the sequel to All That Remains. Writing has kept me busy and sane. My writing now is on a whole different level than when I took that picture two years ago today, and I'm happy to say that it keeps getting better with every book. I have no doubt on days like today that I will one day attain that dream of being someone who makes their living writing.
There are a lot of people I have to thank for where I am. My girlfriend and friends who have been so supportive it's almost embarrassing. My lovely editor, Jenn Loring, for being the counter point to their sugary sweet praise and helping me become a better writer for it. My beta readers who aren't shy about pointing out mistakes. But more than anyone, thank you, readers, for sticking around for two years. I'd do this if nobody read it, but it wouldn't be as satisfying.
Regards,
Al Barrera